Pints of View - the magazine of the Hertfordshire Branches of CAMRA
Download the Latest Pints of View
Click the cover picture to launch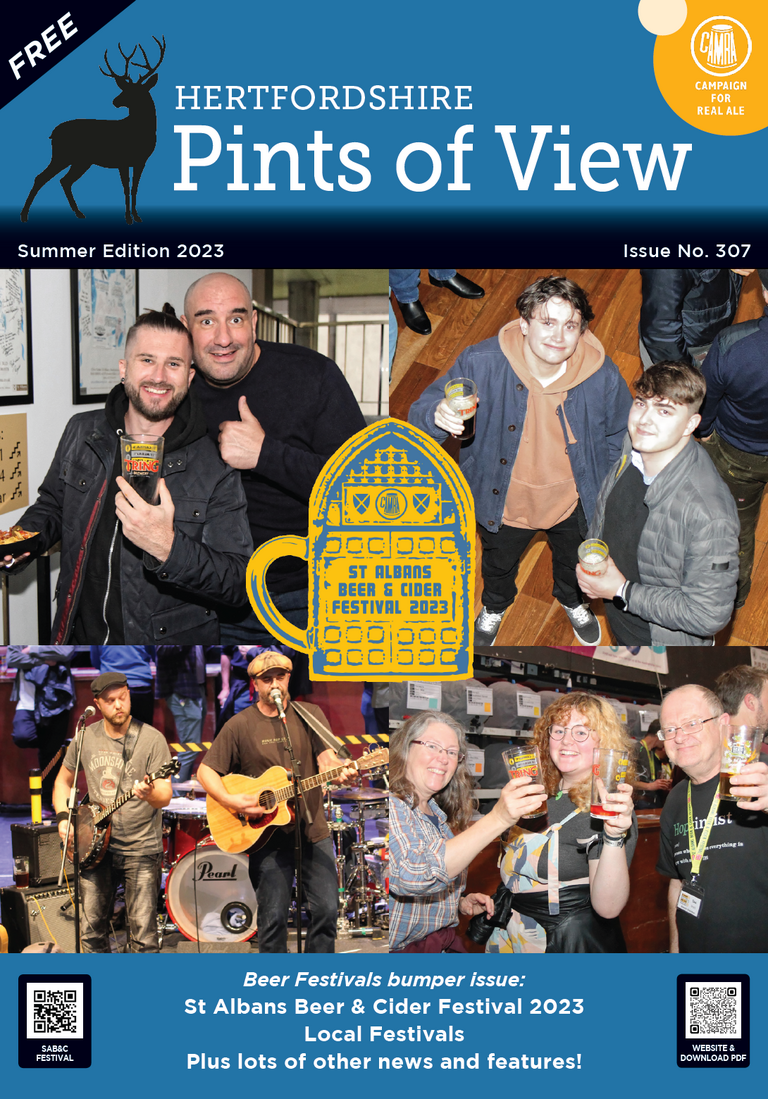 Feature Festival this edition is St Albans, which runs from Wednesday 27th - Saturday 30th September. Find out more via the QR code on the cover and pages 18 -22 of the magazine. You can even win fast-track entry!
Breaking news: The Lamb at Berkhamsted has reopened, Christopher Horne reports. Two draught beers are available - Timothy Taylor Landlord permanently and one other changing at regular intervals. Please see the new website and Facebook account: https://thelambberkhamsted.co.uk/
https://www.facebook.com/lambberkhamsted
Welcome...
...to the Pints of View website. This is a collaboration by four CAMRA Branches: South Herts, North Herts, Watford & District and Herts/Essex Borders.

The featured edition is number 307, the Summer 2023 edition. This is available in pubs, clubs and libraries around Hertfordshire thanks to our volunteers or you can download as pdf by clicking the cover image. With edition 304, we took the magazine to a wider digital audience by including Facebook, Instagram and this dedicated website.

Pints of Views' roots are in the South Hertfordshire Newsletter first published in July 1976, just 5 years after CAMRA was founded, and the combined Hertfordshire Newsletter started in February 1978, becoming Pints of View in April 2000. You can find all the past editions in the archive, accessible from the menu on the left (top for mobiles under the three lines), as well as more links to information about the county's CAMRA branches.

We hope you enjoy Pints of View and, of course, your pints of real ale, cider & perry in Herts pubs and clubs and at our festivals.
Please join in!
To join in with the judging of Pub of the Year, please use this form:
Pub of the Year Judging Form
We welcome lots of news, comments, articles or letters for publication in each Pints of View. Please email us at ku.gro.armac.weivfostnip@rotide

Advertisers are absolutely welcome. Pubs, clubs and events, please let us know what's going on by contacting
Paul Donatantonio at ku.gro.armac.weivfostnip@gnisitrevda
The rate card can be found in the menu under 'Advertise' As added benefits, advertisers' links are 'live' in the online edition and any advertisers featuring Facebook or Instagram will be tagged in those social media.

Distribution: if you would like to help us distribute the magazine hardcopy, ensuring it gets to your favourite places, please email John Kemp via ku.gro.armac.weivfostnip@noitubirtsid
If you notice any errors in paper or online editions or 'dead' links in the online edition, please don't hesitate to let us know by email: ku.gro.armac.weivfostnip@rotide